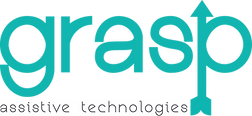 Grasp aims to improve the lives of people with special needs.
About
"We provide our clients with the most advanced assistive technology solutions from around the globe. Our team of specialists have been pairing clients with technology for over 20 years, and our trusted partners are leading AT manufacturers and distributors."

Grasp has selected my-own-voice.
Terms of support
Grasp is an active reseller and advocate of my-own-voice registered to the System for Award Management (SAM) of the U.S. government.

More info on the Grasp website