Learn More
Voice bank with my-own-voice by Acapela Inclusive

Our voice is one of the most dominant element of our personality. Even though the advance of technology has highly improved the quality of life for people suffering of voice impairments, most people who lose their voice must accept to start speaking with a standard digital voice used by other speech impaired persons as well. The change in voice and the loss of uniqueness may affect how these people perceive themselves and their own identity.
The service includes a Windows and a Mac OS X application that allows people that are about to lose their voice to record their own voice before they lose it. Persons who already lost their voice can ask a relative or a friend to record a voice for them.
4 steps to go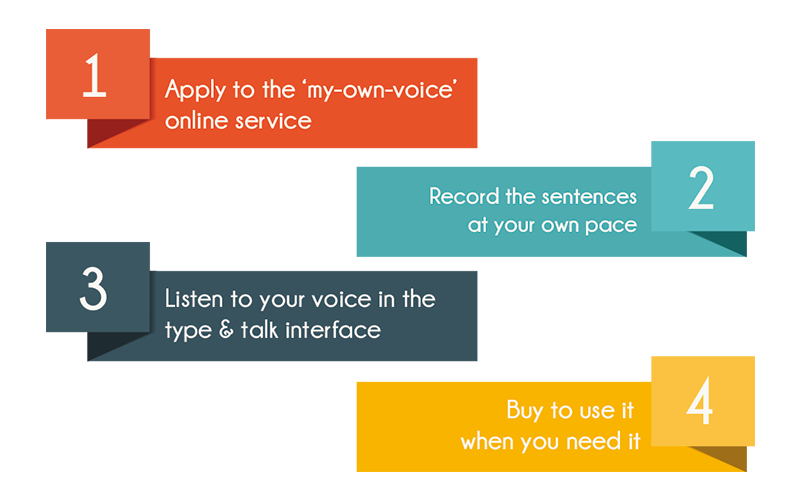 2 formats to choose from
My-own-voice can also provide two types of speech synthesis output from which the user can choose:
Predictive format
Basic format
DNN

(Deep Neutral Networks)




technology

Unit Selection


technology

350 sentences




to be recorded

1500 sentences




to be recorded
The my-own-voice service created by Acapela Group is the first multilingual service of its kind, since it allows users to record the voice by themselves, using only the my-own-voice website (bundled with a windows or MAC OS recorder application) and a common microphone, as for instance a regular headset (learn more about the type of microphone and headset required in the FAQ section).
The amount of speech to be recorded to create a voice is minimized so that even people who are not trained as a professional speaker, or who are weakened by illness, are able to make a recording.
Available languages
my-own-voice is currently allowing creation of voices in several languages including AUS, US & UK English, German, French & Canadian French, Dutch & Flemish, Italian, Norwegian, Spanish & North American Spanish, Swedish, Norwegian, Italian and more to come.
Use it in your favourite application
Once the synthetic voice has been created it can be listened for free in a type&talk box on the website, or it can be purchased for use with SAPI on Windows, with Google TTS API on Android, or in a partner application.
Create your voice for FREE!
Please note that, at an initial stage, the service is free until you decide to use the voice in a specific application, giving you the possibility to test and verify the quality of the voice, or even re-record it, before purchasing anything.
You can START NOW