Learn More
Voice bank with my-own-voice

Our voice is one of the most dominant element of our personality.
Even though the advance of technology has highly improved the quality of life for people suffering of voice impairments, most people who lose their voice must accept to start speaking with a standard digital voice used by other speech impaired persons as well. The change in voice and the loss of uniqueness may affect how these people perceive themselves and their own identity.
The service includes an online recorder, a Windows and a Mac OS X application that allows people that are about to lose their voice to record their own voice before they lose it.
Persons who already lost their voice can ask a relative or a friend to record a voice for them.
4 steps to go: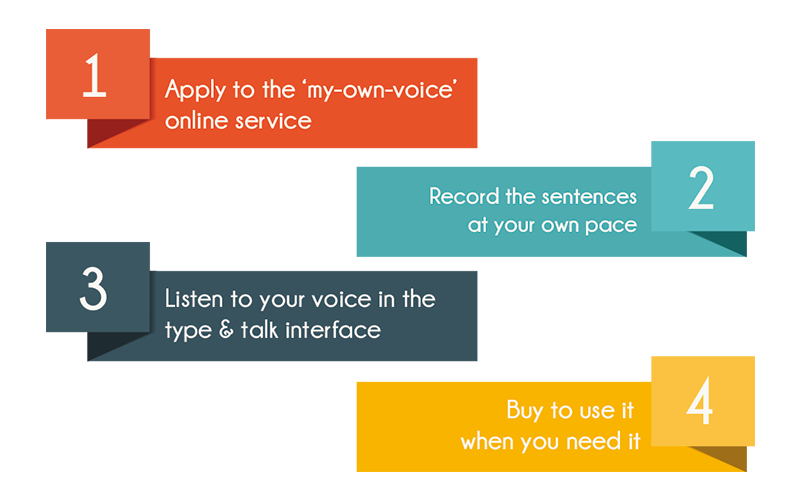 DNN Technology

Only 50 sentences to be recorded

Available languages

Arabic,
Czech,
Danish,
Dutch,
Dutch (BE),
English (Australia),
English (UK),
English (US),
Finnish,
French,
French (Canada),
German,
Greek,
Italian,
Norwegian,
Spanish,
Spanish (North American),
Swedish,
Turkish,
and more to come.

Use it in your favourite application

Once the synthetic voice has been created it can be listened for free in a type&talk box on the website, or it can be purchased for use with SAPI on Windows, with Google TTS API on Android, or in a partner application (e.g: iOS application).

Free creation

Please note that, at an initial stage, the service is free until you decide to use the voice in a specific application, giving you the possibility to test and verify the quality of the voice, or even re-record it, before purchasing anything.